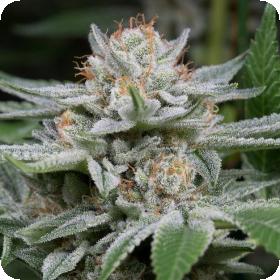 Quick Gorilla Feminised Seeds
Gorilla is a highly acclaimed feminised cannabis seed in the USA. Descendant of the Chem family, she definitely lives up to her origins with an off-the-charts potency and aroma.
This Indica-dominant hybrid has the potential to keep the purest Indica genetics off the podium, as she doubly demonstrated at the Los Angeles Cup and at the High Times Jamaican World Cup in 2014 when she won both of them. Her bag appeal is simply astounding and her light-green flowers seem almost sugar-frosted due to the breathtaking trichomes covering them.
Don't be fooled by her hybrid-looking structure, though, for her Indica effect is as strong as a blow delivered by a huge silverback gorilla.