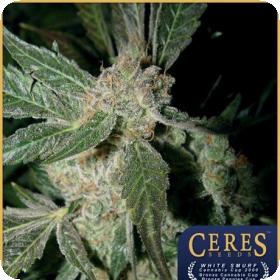 White Panther Feminised Seeds
This wonderful strain known only as White Panther was renamed in honour of poet, activist, and radio maker John Sinclair who was the co-founder of the White Panther Party who appeared in 1968.
The original title of the strain was White Smurf and this super strain is a multi award winner, its many awards were won at the Cannabis Cup.
It is primarily famous for its effect which is light, dreamy and even sensual making it ideal for lounging, relaxing and snuggling. White Panther is an extremely compact plant which is completely smothered in resin.
In the right conditions this plant will give a truly impressive yield of yummy, sticky buds and is ideal for anyone who usually suffers from impossibly high standards.
White Panther is a feminised strain which means it will only grow into female plants. These are extremely popular amongst growers everywhere due to their easy to grow nature.
They remove the issue of the male plants which can significantly improve the growing process. When tested feminised seeds also revealed a higher level of quality and uniformity than regular plants.
This strain can be grown indoors, outdoors or in a greenhouse. Indoors it has a flowering period of 45 - 55 days and outdoor it should be harvested in mid October.