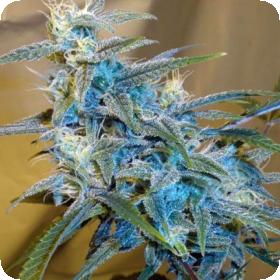 Sugarloaf Feminised Seeds
CannaBioGen Sugar Loaf is an exceptionally vigorous F1 hybrid. It has very large trichomes and dense buds loaded with sticky resin. The name itself bears no outright explanation but the look of the buds is reminiscent of a snow-capped mountain.
This leads many to believe that is named after the famous ski resort that bears the same moniker, bit this is purely theory. Just like anything sugary, it is also a tasty treat both for the eyes and the rest of the senses leaving growers to anticipate all the good times that lie ahead.
Sugar Loaf is the result of crossing Capricho (a back-crossed Minali discovered in Pakistan) with a Columbian. It is an indica/sativa blend that delivers a very powerful psychoactive effect.
It produces so well that the lateral branches have been known to buckle under the weight of so many tasty buds. To avoid these problems, growers are encouraged to monitor and tie branches accordingly.
The plants produced from these seeds are exceptionally vigorous and require a decent amount of space to thrive. When growing indoors, be sure to have enough horizontal space to accommodate their need for consistent light all over.
A 12/12 light cycle is recommended but any popular growing method combined with proper care and nutrition will yield vibrant, healthy plants that exceed expectations when it comes to production. They fully mature in about 100 days.
The flowering time may seem a little long but growers will be rewarded for much longer. The cured product stores well and retains its potency for months or longer.
Novice growers will greatly appreciate the ease of handling these seeds. They are feminised and subsequently easier to grow than their regular counterparts. They flower and produce more buds than average as well with little more than basic care and maintenance.
Please remember that the growing of cannabis plants and the cultivation of seeds is illegal in some countries - please check the laws of your country and don't be growing any plants if it is against your country's laws.
 
Genetics:
Indica/Sativa 50% Pakistan x Colombia/India