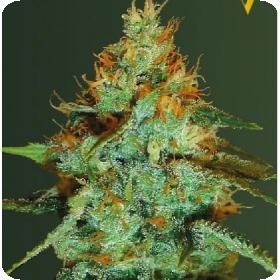 Super Extra Skunk Auto Feminised Seeds
Super Extra Skunk, as the name suggests, is a pretty impressive plant all round. It is extremely consistent in its performance and is extremely potent with fast flowering and impressive yields.
This strain is indica dominant and now comes in the form of a feminised auto-flowering strain. These plants are extremely vigorous growers and will flower nice and quickly.
Meaning that a couple of crops can be squeezed into one growing period. The buds are extremely dense, aromatic and flavoursome with a dense and sparkling coating of resin. This is the strain for growers who like to really do it up.
This strain is both feminised and auto-flowering, making it superb for growers. Feminised seeds will only grow into female plants, removing the annoying male plants that take up around half of a regular crop.
Males are useless to those who don't plan to breed their own plants, and they can harm the females, so they have to be thrown out. This is a huge waste of time and money that could be used on female plants.
Feminised seeds also tend to be higher in quality and uniformity than regular plants. Auto-flowering seeds will flower at a certain point in their life, rather than in response to a light cycle.
This shortens their flowering time and their stature. Even though the plants themselves are smaller, the yields will be the same.
This strain has an indoor flowering time of 6 – 8 weeks and an outdoor flowering time of 10 – 11 weeks.
Remember that the cultivation of cannabis seeds is illegal in some countries, please check the laws of your country before attempting to cultivate cannabis seeds.
Genetics:
Skunk #1 x Afghani x Ruderalis