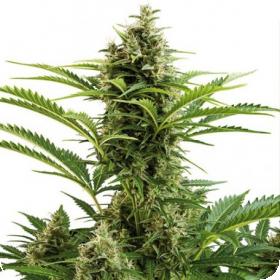 Vesta Auto Feminised Seeds
Vesta is an auto feminised strain which is a combination of an Indica and a Ruderalis strain. The result is a vigorous grower that is completely and utterly covered with resin.
This strain is not easily stressed and is extremely simple to grow. It also gives an amazing result, which means that it is the perfect strain for novice growers and experts alike. It tastes of citrus and has a long-lasting and powerful effect that is extremely relaxing.
Vesta even has the potential to be used as a medicinal strain.
This strain is both auto - flowering and feminised making it extremely user friendly, especially for growers. Feminised seeds will only grow into female plants, which is ideal for those who don't require the male plants.
They can be nothing more than a nuisance and can waste a lot of time and money, which would be better spent on the productive female plants.
Auto-flowering seeds, unlike regular seeds, will flower of their own accord rather than as a result of a specific light cycle. This will shorten the flowering time as well as the structure of the plant, without risking the size of the yield. Vesta is ideal for indoor and stealth growing.
Vesta can be grown either indoors or outdoors and has a flowering time of 75 days.
Remember that the cultivation of cannabis seeds is illegal in some countries, please check the laws of your country before attempting to cultivate cannabis seeds.