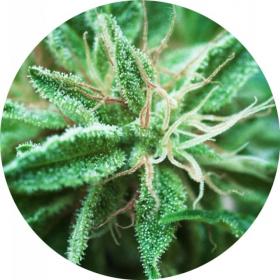 Sativa Samadhi Regular Seeds
Sativa Samadhi is an incredible sativa cross from Top Tao Seeds. This strain is perfect for relaxation, as suggested by its name which translates as "meditation" or "contemplation".
It is a state of awareness and calm that settles the mind. This strain is extremely versatile and resistant to cold and pests. This strain is well known for its extraordinarily beautiful buds, with their stunning vibrant green colouring and coating of crystal resin.
The effect is very happy and uplifting with a delightful creative edge. Sativa Samadhi is perfect for all levels of grower and will even reward novices with a bountiful harvest. This strain has a powerful scent and a THC level of more than 20%, the perfect plant for meditation.
This is a regular strain, meaning that it will grow into a combination of male and female plants. This makes it ideal for breeders, who need the male plants for their pollen. A regular crop will be about half male and half female, with maybe a few more females.
This gives the breeders plenty of choice when it comes to selecting the parent plants. Choosing the very best male and female plants will ensure the quality of the next crop whilst also removing any genetic weaknesses.
These plants will also be photo-period and will require a light cycle in order to flower. This can be provided by then sun or by grow lights when grown indoors.
This strain has a flowering time of 10 weeks and can be grown indoors, outdoors or in a greenhouse.
Remember that the cultivation of cannabis seeds is illegal in some countries, please check the laws of your country before attempting to cultivate cannabis seeds.