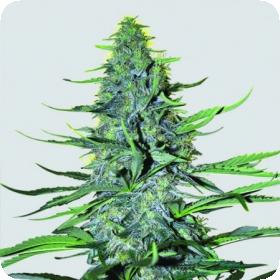 White Widow Regular Seeds
White Widow has always been amazing and is still one of the most popular strains in the cannabis community. It is famous for its incredibly euphoric high and its powerfully earthy smoke.
This strain has been super popular since it first came out in Amsterdam in the 90s and since then every breeder worth their salt has their own version.
The THC is pretty high which gives the effect a real boost of happiness and drive, perfect for those who like to get creative or just need a little extra light in their day.
The yield of this strain is very high so growers should watch that they don't harvest her too early.
This version of White Widow is a regular strain, which means it will grow into a roughly even split of males and females. It also means that it will require a light cycle in order to flower.
Most breeders, and some old school growers, still prefer to use regular seeds. They are great for breeders because they allow for plenty of choice when it comes to selecting the parents of the next crop.
Choosing the very best male and female means that the next crop will be higher in quality whilst lacking any genetic weaknesses that may have been present in previous crops.
This strain needs 8 - 10 weeks to flower and should be grown indoors.
Remember that the cultivation of cannabis seeds is illegal in some countries, please check the laws of your country before attempting to cultivate cannabis seeds.