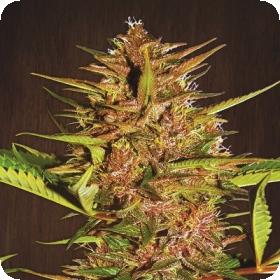 Pakistan Chitral Kush Regular Seeds
This pure indica breed has been a staple of cannabis growers along the Iberian Peninsula for the last two decades and is rated as one of the best hash plants around.
Its wide genetic diversities yield a veritable rainbow of colours and a sensual blend of aromas and flavours. From a purely aesthetic standpoint, this plant is truly beautiful.
There are two main phenotypes: one that is predominantly green and another that is very colourful. Both produce highly adaptable plants with are abundantly resinous and fast-maturing. The end product is also quite potent, especially from the green.
Pakistan Chitral Kush is very resistant to moulds, fungus and the elements when grown outdoors. It is a preferred strain among hybrid breeders based on its hardiness and ability to thrive in diverse environments.
It is identified by its wide leaves and branchy growth. The green phenotypes have an earthy aroma and a hashy endnote. The coloured ones, particularly the red and purple, have predominant scents of wild berries - strawberry and blackberry respectively.
ACE Seeds are the product of years of the implementation of industry-leading consistent and dependable breeding standards. They can adapt and flourish in a variety of growing environments, both indoors or out, and they grow well under a host of conditions.
ACE seeds grow into plants that are both potent as well as productive, yielding ample numbers of flowers with significantly resinous buds. Their seeds also yield and end product which offers enthusiasts a variety of unique flavours and aromas to enjoy.
ACE Seeds can be appreciated for their diversity as well as their resistance to hermaphroditism. Their yields are plenteous and very impressive. ACE Seeds employs breeding standards which allow for easy growth within a broad range of growing scenarios.
This allows growers to employ their preferred methods and enjoy consistent success in their projects.
Please remember that the growing of cannabis plants and the cultivation of seeds is illegal in some countries - please check the laws of your country and don't be growing any plants if it is against your country's laws.