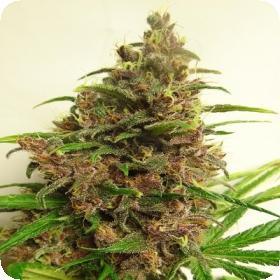 Malawi x PCK Regular Seeds
Malawi x PCK is the relative of the extremely popular Violeta but with a few definite differences. It is a cross between the Malawi mother, always a favourite, and Pakistan Chitral Kush.
It is a balanced Sativa/ Indica cross and has an effect to match. A balanced and pleasant high that doesn't stray too far into either camp.
It may not be as compact or as fast flowering as Violeta but it more than makes up for it with it's vigorous growth, its high yields and its over all power.
When grown outdoors it will grow to a much more impressive height but it will take a little bit longer to flower. The scent is a combination of fruits and visually the plant is seriously beautiful and takes on that classic Pakistani maroon colouring as it matures.
It can be grown easily outdoors due to its resistance to damp and mould but also works well as an indoor plant.
This strain can be purchased in its regular form which makes it perfect for all the old school growers and breeders out there. Many still much prefer using regular plants rather than auto-flowering or feminised strains.
They are especially good for breeders as they will grow into a roughly even split of males and females. The breeder than then choose their top two plants to parent the next crop, steadily improving their plants every time.
Malawi x PCK has a flowering time of 10 - 11 weeks and should be harvested in early October if grown outdoors.
Keep in mind that the cultivation of cannabis is illegal in several countries. Please check the laws of your country before attempting to grow cannabis seeds.