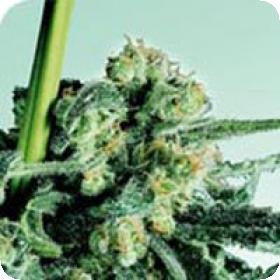 Sensi Skunk Regular Seeds
Sensi Skunk is a delightfully citrus based twist on the popular Skunk strain. When Sensi were expanding their genetic library in 1991 this strain was the third launched in celebration.
There were three main objectives taken into account when Sensi were preparing to select the parent plants; it was important to select a high potency strain which would have a reasonable price and be easy to cultivate, creating a new and improved strain of Skunk which had the same excellent Skunk qualities but was a new and exciting strain to the public, the third objective was that this new strain live up to the standards that Sensi had already set for themselves.
Sensi Skunk easily achieved those goals and even exceeds them in some ways. The resulting strain is reliable, uniform, sticky and delicious, everything that Sensi could have hoped for.
This Skunk strain also blows all others out of the water with its extremely sugary-citrus like scent which is completely unique. Sensi Skunk is a fast bloomer with a high potency whilst also being extremely easy to grow, even for the novice grower.
This strain is also extremely versatile and can be grown indoors, outdoors, or in a greenhouse.
Not wanting to toy with the genetics of this amazing strain any further, Sensi released it in the form of regular seeds.
Regular seeds are still very popular amongst many modern growers and breeders because of their reliability and simplicity. For breeders, they are certainly the easiest way to go as the only option, other than using male plants for fertilisation, is using two female plants which is an extremely complex and difficult breeding method.
Regular seeds grow into a roughly even split of male and female plants, sometimes the ratio is a little more in favour of the females. This gives the breeder a lot of choice when it comes to selecting which plants will pass on their genetic material.
Ensuring that they have a good amount of control over their future crops' quality and uniformity.
This strain thrives best in a continental or temperate climate, has an extremely short flowering period of just 45 - 50 days, and is 80% Indica.
Please remember that the growing of cannabis plants and the cultivation of seeds is illegal in some countries - please check the laws of your country and don't be growing any plants if it is against your country's laws