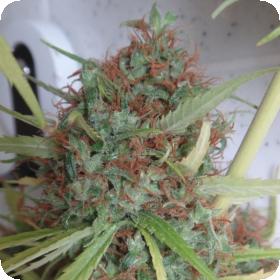 Honduras Regular Seeds by Ace Seeds are 100% Sativa and are the second generation of a pure land-race strain grown in Central America. Another classic strain which is perfect for old school growers and breeders.
Its effect is much like that of a classic Mexican Sativa strain whilst its structure and growth is much more similar to that of a lowland Columbian strain.
One of the main draws of this plant is its impressive yield which along with its resistance to heat, humidity and fungi makes it a delight to grow. It does need to be grown in a tropical/sub - tropical environment so if it is grown indoors it needs some seriously powerful lights.
It has a spicy yet woody scent with a hint of citrus. It has a moderate THC level of 7 - 13% and a low CBD level which gives is a clean and clear effect. It's ideal for those who just want a little something whilst still being able to go about their day.
It is a steady high with no intense peaks or troughs and is perfect for migraine sufferers or those who just find it hard to get going in the morning. Medicinally it is often used for those with insomnia, heart issues, anxiety, and Parkinson's Disease.
As if this strain weren't already beautifully simple enough it is also a regular strain. Regular strains are still preferred by old school growers and breeders all over the world. They are ideal for those who intend on breeding their own future crops.
It is possible to breed with other types of strains, but it is significantly more difficult. Regular seeds will grow into a roughly even split of male and female plants meaning that the breeder can pick the best specimens to parent the next crop.
The strain can be grown indoors or outdoors, it has a 98 day flowering time and should be harvested in November.
Please keep in mind that the cultivation of cannabis is illegal in several countries.
 
Genetics:
2nd generation pure landrace sativa from Honduras.