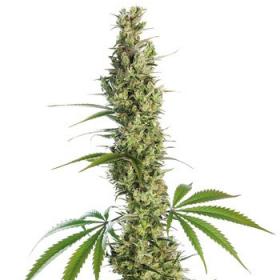 This strain is a cross between Pure Haze, Colombian, Jamaican and Thai genetics in honour of the "Father of Vapour" Eagle Bill Amato. This strain is sativa dominant and is an extremely vigorous grower that only stretches a little during flowering.
This strain has a great calyx to leaf ratio which makes it perfect for manicuring. The flavour is smooth and spicy, perfect for vapourising. The effect is uplifting and happy without being too intense, perfect for daytime use.
The little hit of energy makes it great for getting out and about or staying in and having some friends over. 
Eagle Bill is a regular strain, which means it till grow into both male and female plants. It also means that these plants will be photoperiod and need a light cycle in order to flower. Regular seeds are perfect for breeders who need the male plants for their pollen.
Regular crops will be around half male and half female, giving the breeder plenty of choice when it comes to selecting the parents of the next crop. The better the parent plants the better than next crop will be, this is also a great time to remove any genetic weaknesses.
Some old school growers also prefer to use regular seeds because they are reliable. 
This strain has a flowering time of 60 – 70 days and can be grown indoors or outdoors. 
Remember that the cultivation of cannabis seeds is illegal in some countries, please check the laws of your country before attempting to cultivate cannabis seeds.
Genetics:
Pure Haze x Colombian x Thai x Jamaican x ?