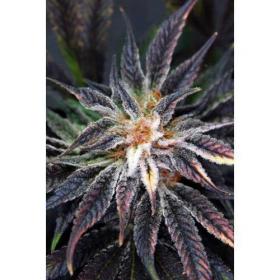 Qleaner by TGA Subcool is an excellent hybrid composed of a mix of Jacks Cleaner and Querkle, both of which are veritable heros of the cannabis world. Qleaner is comprised of a 60% Sativa and 40% Indica split.
Due to the seed's Sativa dominance it does have a somewhat lengthy flowering period. The finished product's incredible quality and ease of cultivation, however, more than make up for this.
It can be grown in all conditions from indoors and outdoors and greenhouses and its flexibility makes it an outstanding choice for even a more novice grower.
Grown in the right conditions Qleaner can form some think, heavy buds that exhibit an impressive resin production and can take on a somewhat purple tone during the plant's growth process, with dark orange pistils.
The leaves can also develop a dark burgundy or purple hue, almost sometimes black, making it an altogether very attractive plant.
With this strain taking the form of a regular seed it would undoubtedly be popular with the more traditional growers out there.
It is widely agreed that a feminised variety would often be more sought after for a grower wishing to cultivate only the same strain of plant. Regular seeds, however, are still widely used, especially for growers who want to breed, as the male plants are obviously an essential part of this process.
The grower is able to pick and choose the phenotypes that they would like to be passed onto their crop and selectively breed according to this while eliminating the weaker aspects of the strains. For this reason, regular seeds are still very much a popular option worldwide.
This seed has a flowering period of around 60 to 70 days and can produce a medium to high yield depending on growing conditions.
Please remember that the growing of cannabis plants and the cultivation of seeds is illegal in some countries - please check the laws of your country and don't be growing any plants if it is against your country's laws