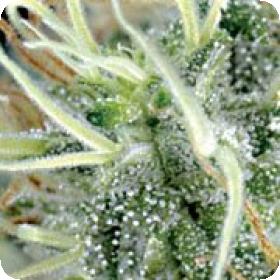 NL5 x Haze has proved to be one of the most popular of a handful of now classic strains, including Silver Haze, Shiva Skunk and Silver Pearl, released in the late 80s and has remained a dominating figure among collectors.
Since it's release it has won numerous awards and continues to be one of the best loved strains available to this day. A grower would need to take into consideration the height of the growing space for this strain, as it can stretch to quite a height.
The finished plant is said to produce large and plentiful buds, with a remarkable amount of resin. This is a strain that has led to the creation of many poly-hybrids across the globe.
This strain is a regular seed, meaning it would produce a fairly even split of female and male plants.
While a grower wishing only to cultivate the same strain, would have no need for the males and therefore possibly go for a feminised seed, those wishing to breed their own customised crop would find the male plants entirely essential for their pollen production.
A grower would then have the opportunity to tailor their crop to have only what they would consider the strongest aspects, while removing those not needed or wanted.
It is this ability to create a strain specific to the wishes of the grower that maintains the regular seed's popularity, particularly among growers with more traditional breeding tendencies.
A grower could expect this strain to have a flowering time between 9 and 11 weeks, with a yield of approximately 450-650 grams per square meter. This plant is harvested around November in the Northern Hemisphere and between May and June in the Southern Hemisphere.