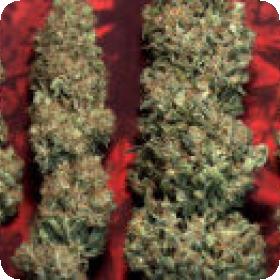 This famous Mandala strain is a reliable and powerful cross that will delight your connoisseur heart. Satori is an exceptionally easy to grow sativa.
She has shown impressive hardiness against spider mites and other pests, and she possesses a good measure of mold resistance. Her slim appearance makes it possible to plant in narrow rows, or in SOG, to maximize her typical record yields even more.
The firm sideshoots provide the highest quality cuttings. As with all Mandala Seeds sativas she is heat-resistant - an added bonus for small indoor environments and hot summer grows. The mainly sweet & fruity-spicy aroma is a real treat for the senses.
Satori grows a long headbud with chunky flowers and does not require much feeding on soil; you can almost do without feeding provided you use quality soil and sufficient pot size.
Satori is a high yielding, powerful plant with an exceptional sativa effect. The heavy buds are easy to manicure, and from the resinous bud leaves you can produce the finest grade hash, comparable in quality to the famous Nepalese 'temple balls'.