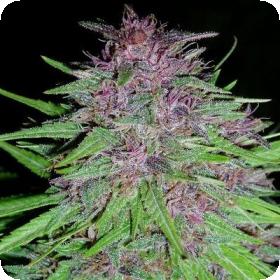 This strain was created from classic Swiss genetics and was specifically designed for outdoor growing in slightly colder climates or in greenhouses, of course the strain can also be grown indoors.
The outdoor growing abilities of this strain rest in its extremely hardy nature. It is not one to be damaged by poor weather or wind. It is also extremely resistant to mould, disease and pests.
Despite its robust nature it is an extremely pretty plant which grows colourful leaves, buds and stems. The scent and the flavour of the strain match its sturdiness with their earthy undertones and hint of coffee and blackberry pie.
The strain even has wonderful medical potential due to its Indica genetics. It is extremely relaxing and yet creatively energetic making it an ideal day time painkiller as well as being well suited to the evening.
This strain is also feminised which means it has been bred in such a way that it will only grow into female plants. Feminised seeds are ever increasing in popularity due to their easy to grow nature, their higher level of quality and their impressive uniformity.
Feminised seeds are often preferred by those who do not plan on breeding their own crops as breeding female plants together can be extremely difficult.
However for a skilled breeder it is not impossible, a female simply needs to be stressed in the correct way and she will create feminised pollen. This pollen can then be used to fertilise another female who will produce her own feminised seeds.
On the whole feminised seeds are preferred because they remove the male plants and all of the issues that come with them.
The males will usually be removed before the flowering period which can be a huge waste of time, money and effort. Erdpurt Feminised seeds have a flowering time of 7 - 9 weeks and should be harvested in September.
Please remember that the growing of cannabis plants and the cultivation of seeds is illegal in some countries - please check the laws of your country and don't be growing any plants if it is against your country's laws.
Genetics:
Erdbeer x Purpurea Ticinensis