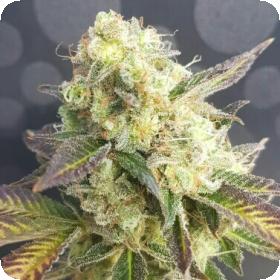 Banana Sherbet x Chocolate Regular Seeds
Banana Sherbet X Chocolate is one of our great new additions for 2019. After much testing and getting opinions from some Cannabis Social Clubs in Spain we decided to release seeds in regular form.
The phenos we tried selected from over 100 females we found there were many similarities, all grew very vigorously with ease and producing similar yields.
The noticeable difference was the taste from some phenos gave more of a chocolate cookies taste but still with a hint of banana. All were very more ish with a taste that most people will not get bored with.
Then the other main pheno was also sweet like others but had more of a banana taste, mixed with dark chocolate and a hint of cookies.
This strain produces nice compact buds, and we recommend you support the branches from pre-flowering; you will notice within 21 days that the plant is glistening with trichomes and giving off a sweet cookie aroma which u may be tempted to cut early.
This strain is not an overly hard strain to grow, but we recommend you do not over feed with nutrients, as giving it less or what the plant requires will give you a much more satisfying taste and if you live in Europe you will certainly have close to Cali Strains which you probably pay ridiculous prices for in your social clubs.
As we do not encourage illegal activities which we will say, we also don't believe patients or medicinal users should not be paying extortionate prices. All our seeds we guarantee you are getting what is advertised.
Genetics:
Banana Sherbet x Chocolate