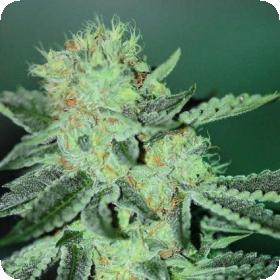 Karma OG is thought of as the personal baby of the Karma Genetics breeders. It was bred without being influenced by any other outside sources or seed companies.
It originated from an OG #17 female cut that was given to the company by a close friend. The cut was a little more on the sour side than other OG cuts and had thicker orange hairs.
This cut was combined with another OG, an HA - OG female that they got in the US in 2009 in California. The third part of the strain is a SFV OG Kush BX2 male which was the first release from Cali Connection when they started up.
From here there are several other stages to creating this amazing strain including the introduction of Lucifer OG and Biker Kush.
This particular male was especially good for making hybrids. The over all result is a really rather impressive strain which is completely unique to the Karma Genetics seed bank.
It has an extremely impressive yield as well as recently winning all the Indica categories at the IC420 Cup.
Karma OG come to its regular form which means it will grow into both male and female plants. Regular seeds are often used in attempts to reintroduce cannabis into the wild.
Regular seeds are capable of growing, breeding and thriving completely on their own, as long as they are placed in the right environment. Many old-fashioned growers and breeders prefer to use regular seeds for a number of reasons.
They have not been in any way altered which ensures that the strain is what they expect it to be. They are primarily used by breeders since the easiest way to breed new plants is by using a male and a female plant.
This way the breeders can ensure that they select the very best male and female plants from their crop. This is not only an excellent way to ensure the quality of future crops but also the perfect chance to breed out any genetic weakness in the plants.
Karma OG can be grown indoors or outdoors making it ideal for all types of growers and breeders. It grows to a medium height and has a medium - high yield.