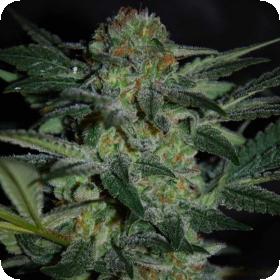 High Tension Feminised Seeds
High Tension feminised represents the product of some truly world-class genetics. Four quality strains went into the development of this potent sativa-dominant hybrid: Jack Herer, Black Domina, Columbian Mangobiche and Orange Bud.
With a genetic cocktail like that, the finished product is bound to be something special.
The finished product provides a cerebral, relaxing, introspective high that is great any time of the day or night, and with a very high THC content, you know you're in for a treat!
This is a great recreational strain but also one that the medical marijuana community lauds for its superior medicinal qualities. Use it for migraines, insomnia, muscle and joint pain, and as a remedy or nausea.
The seeds in this collection are feminised and subsequently very easy to grow. Yields are moderate to high, especially under controlled growing conditions, and the plants are very sturdy and capable of standing up to a variety of moulds and fungi.
Indoor growers will need to have enough vertical space to accommodate a moderately tall sativa. High ceilings or greenhouses are a must. The plants are not partial to any particular grow method or lighting cycle.
They do fine in any number of growing environments from soil to hydro.
Outdoor growers will find that this strain stands up well under varying weather conditions, but they will want to bring these plants in before first frost. An early October harvest is both a reasonable and safe bet.
In areas where the growing season is long, it is possible to achieve multiple harvests with these plants with a little extra care and attention.
First time growers will appreciate the ease of handling when working with High Tension. The plants allow for a relatively broad margin of error and require no special accommodations to produce in abundance.