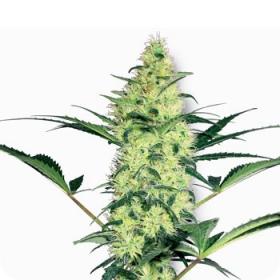 White Diesel Feminised Seeds
This strain is another classic strain from Sensi White Label, so named for the insanely thick coating of resin that turns the buds white.
This strain is super easy to grow, making it ideal for all sorts of growers, whether they have been growing for years or have just started. It grows well in all sorts of environments, whether that be indoors or outdoors.
The effect is powerful yet uplifting with a soft bodily relaxation that won't fasten users to their couch for the foreseeable future. White Diesel will thrive outdoors in a warmer climate and can be harvested in mid-October.
 
White Diesel is a feminised strain, which means it will only grow into female plants. Feminised seeds are great for growers who don't plan on breeding their own crops.
For these breeders, regular crops can end in irritation as well as wasting money, time and effort. Males take up around half of a regular crop and just have to be chucked out before the flowering period.
Feminised seeds also tend to have a higher overall level of quality and uniformity. For this reason, some breeders also prefer to use them, despite the increased difficulty in feminised breeding.
This strain can be grown indoors, outdoors or in a greenhouse and has a flowering time of 50 – 65 days.