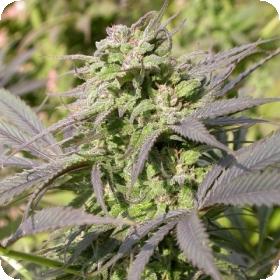 Biddy Early Feminised Seeds
Serious Seeds are proud to announce that they have incorporated 5 new strains that were originally developed and sold by Magus Genetics.The assortment of this small Dutch Seed Company fits perfectly into the Serious Seeds menu.
Just as Serious Seeds Magus has produced only a few seeds with unique and superb characteristics because of their outstanding quality, they have won several awards and, more importantly, they are very much loved by the people who have tried them.
'Biddy Early' is our first outdoor variety, and one of the best in Western Europe. In the normal outdoor season, it can easily reach 2 metres of height. Its relatively early finishing time combined with good mould resistance makes it very suitable for outdoor growth in Dutch and similar climates.
Most plants will have red and purple colours at low temperatures. 'Biddy Early' produces great results indoors as well, but keeping mothers in a vegetative state is difficult because of their willingness to start flowering.
The aroma is a mixture of an unfamiliar earthy scent and a sweet candy taste that gives a surprisingly pleasant and powerful high taste. Some people said it was the best they ever smoked.