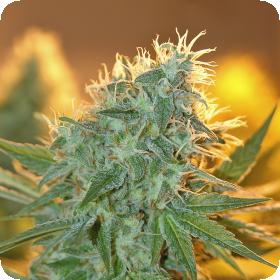 Jean Guy is a strain that was born in Quebec and was made extremely famous by the Montreal Compassion Club. This strain is a powerful Sativa dominant cross with an extremely powerful scent and flavour.
The scent is one of citrus combined with the classic scent of skunk. From the smell alone it is easy to tell how powerful the buzz is.
The most impressive strains always have an impressive story attached to them. This particular strain was featured in the very first marijuana advert which was shown in the New York Times.
It is said to be a phenotype of White Widow and it has an extremely powerful, cerebral effect. It has an extremely impressive THC content and its CBD content is 1.4%. However, this very high THC content does mean that it is a strain to be approached with caution.
Medicinally Jean Guy is primarily used to lessen stress, pain, depression, fatigue and insomnia.
Jean Guy is a feminised strain which means it will only grow into female plants. This is primarily useful for growers as they have no need for the male plants.
The males therefore have to be removed at the start of the flowering period, this also ensures that they do not harm the female plants. This means that around half of a regular crop is wasted, and so is half of the money spent on it by the grower.
Feminised seeds can save a lot of time, money and effort on the part of the grower. The resulting plants will also be higher in quality and in uniformity. Breeders can also use feminised seeds if they are experienced enough.
An experienced breeder can breed a female plant with another female plant. Females are capable of producing a pollen similar to that of the male plant. This pollen can be used to fertilise another female plant, the resulting seeds will be feminised.
This is because all of the genetic material passed on is female. 80% of strains which have gone through this breeding process have shown marked improvement.
This strain can be grown indoors or outdoors and has a flowering period of 10 weeks.