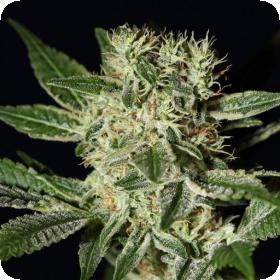 Ladyburn 1974 Feminised Seeds
All we really need to say here is "Jack Herer" and that should be reason enough to give these seeds a go. That name tells us two things: a stellar quality indica and a great-producing plant.
What makes this strain even better is the addition of Ice Dream genetics which give this particular strain a unique effect. It starts out VERY indica with a full-on couch-locked stone, but after a little while things start feeling much lighter, almost like a powerful sativa. It has to be experienced to be believed and we've got your chance right here.
In case you needed another reason to try these seeds, Ladyburn is also touted by the medical marijuana community as a great strain for pain management. Even with a very high THC content, it's good for what ails you.
Growing this strain is easy and its yields make it even more of a pleasure. These are feminised seeds which makes them low-maintenance by definition. Even the breeder points out that they are an ideal choice for beginners because the plants practically grow themselves and produce like mad even if they are left completely to their own devices. Experienced growers can likely push them even further.
The plants are the right size for all popular indoor setups, either soil or hydro and they finish quickly: just 9 weeks form seed on average. Give them a consistent balanced light cycle during the photoperiod and they will show their appreciation in the best way possible.
Outdoors, Ladyburn stands up well to the elements, even colder nights. Plan harvest for the beginning of October and do not let the plants become exposed to widespread frost. The finished product should cure for at least 10 days. After that, it stays fresh for months when