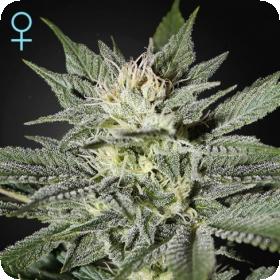 King's Kush CBD Feminised Seeds
This strain is a high CBD version of the classic King's Kush strain. The mother was King's Kush and the father was a carefully selected high CBD plant. The strain is indica dominant, 70%, and has a perfect balance of THC and CBD.
The percentage of THC and CBD is about 8 - 10%. This makes it an extremely relaxing strain which is much more focused on the body than the mind. So for anyone who is looking for a day time medicinal strain to help with pain, look no further.
King's Kush is available in the form of feminised seeds. Usually feminised seeds would be perfect for growers who have no plans to breed their own crops. For these growers, feminised seeds provide the most cost effective and efficient way to grow cannabis.
They have a higher level of quality, more impressive uniformity and there is no need to remove the male plants.
Usually the males would have to be separated from the female plants, this is time-consuming and a huge waste of seeds. Some breeder's eve prefer to use feminised seeds. Female plants can be hassled into producing a pollen similar to that of the males.
However, this method is not easy and should not be attempted by novices.
This strain grows well indoors, outdoors or in a greenhouse and will need 63 - 70 days to flower.
Remember that the cultivation of cannabis seeds is illegal in some countries, please check the laws of your country before attempting to cultivate cannabis seeds.
Genetics:
King's Kush female x High-CBD male