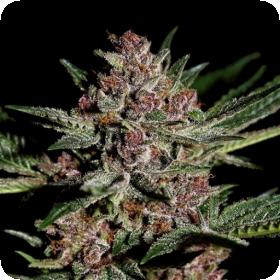 Bubba Kush Feminised Seeds
Bubba Kush Feminised Seeds from Green House Seeds Co. are a very interesting Indica combination of two strains: Bubblegum and Kush. This strain was awarded 1st place in the Treating Yourself Medicinal Cup Competition in 2010. This popular Kush strain is high in demand and when grown and cured in the correct manner it produces a uniquely smelling and tasting plant.
The Bubba Kush plants grow exactly as you would expect of an Indica strain, short with multiple palm tree like branches that are top heavy and very dense. The plant can be extremely eye catching with long hairs and a crystal coating. The plant has a smooth and fruity taste and smell making it a very pleasant and easy smoke however too much will leave you glued to your seat such is the powerful sedative effect. Due to the nature of its effects, Bubba Kush has been known to produce effective results in relation to the treatment of insomnia.
The high given from this plant is extremely potent and long lasting whilst remaining relaxing. The effects start in the head with a mind numbing effect before working its way down the rest of your body. At first it will feel slightly cerebral but this will soon fade and the muscle relaxing properties it contains will start to take effect. Another interesting side effect reported buy users of Bubba Kush is that you can expect your appetite to kick in to overdrive should you overindulge.
For the indoor grower this plant works best in SoG and SCRoG operations and you can expect to see results after 9 weeks with a production of up to 800g/square metre. When grown outdoors the flowering will finish in the first week of October in the Northern Hemisphere with a yield of 1000g/plant.
Please remember that the growing of cannabis plants and the cultivation of seeds is illegal in some countries - please check the laws of your country and don't be growing any plants if it is against your country's laws.