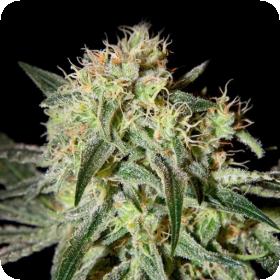 Damn Sour Feminised Seeds
Damn Sour Feminised Seeds from Green House Seeds Co. are a hybrid strain created after selectively backcrossing a Sour Sage and the result is a Sativa dominant strain which packs a lot of flavour as well as potency.
This plant is considered a good choice for beginners as it requires minimal care and requires very little amounts of fertilizer. It is also not vulnerable to mould or fungal diseases and tolerant of high, low or fluctuating temperatures.
Damn Sour will grow in the traditional Sativa shape with long branches that stretch out and a plant that reaches about medium height with long buds and great resin production.
However, with effective pruning methods the plant will grow more squat and bushy like that of a traditional Indica. This plant can be grown either indoors or outdoors however it is ideally suited to SCRoG and LST systems but will grow fairly easily in most systems.
As the name would suggest this plant has a remarkably sour and zesty taste to it and is an easy smoke.
Initially the high is extremely intense and happy which eventually gives way to a relaxation of the body and calmness of mind and has been known to be medicinally effective in pain therapy.
For an indoor grow the flowering period is around 9 weeks and will produce a yield of up to 700g/sqm. For plants grown outdoors, flowering will have completed by the first week in October in the Northern Hemisphere with a production of 800g/plant.
Outdoor growth has been known to give a massive yield however it is likely this strain will develop well in most situations providing the EC feeding schedule is quite high.
Please remember that the growing of cannabis plants and the cultivation of seeds is illegal in some countries - please check the laws of your country and don't be growing any plants if it is against your country's laws.