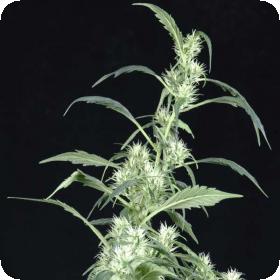 Arjan's Ultra Haze #2 Feminised Seeds
Arjan's Ultra Haze #2 is a combination of Neville's Haze along with Cambodian and Laotian strains. This strain is predominantly sativa and has a pretty powerfully psychedelic effect. It doesn't have the highest THC production in town, 16.22%, but when you combine that with a CBD level of 0.19% you get a pretty intense plant that creeps up and engulfs.
So inexperienced smokers should be careful at first, or they may end up not having the best smoking experience. It also have a delightfully meditative quality which, in the correct dose, can be amazing for hard core relaxation. Physically it is a tall plant that enjoys a warmer climate.
This strain is feminised, which means that it will only grow into female plants. It also means that it will require a specific light cycle in order to flower. Feminised seeds are usually popular amongst growers who have no use for the male plants. The males, in this case, take up space and resources that would be better used on productive female plants.
Feminised seeds are also usually better quality and produce a more uniform crop than regular seeds. As a result they are sometimes used by breeders in a process called feminised breeding. This is when the female is stressed in such a way that she produces a pollen comparable to the male's. However this is not an easy breeding method and should not be attempted by novices.
This strain will need 14 weeks to flower and can be grown indoors, outdoors or in a greenhouse.
Remember that the cultivation of cannabis seeds is illegal in some countries, please check the laws of your country before attempting to cultivate cannabis seeds.
Genetics:
Neville's Haze x Mango Haze x Laos.