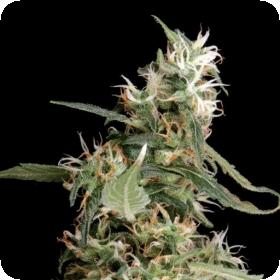 Arjan's Ultra Haze #1 Feminised Seeds
Arjan's Ultra Haze #1 Feminised Seeds from Green House Seeds Co. come highly regarded having triumphed in first place at the 2004 High Times Cannabis Cup.
For all of those Sativa enthusiasts out there look no further - many consider this strain to be the best that money can buy even for the most demanding of growers out there.
The heritage of this plant is a closely guarded secret and given the reputation it has for producing high quality buds, absolutely saturated in THC, it is easy to see why.
The plant is extremely adaptable and will thrive whether you choose to grow indoors or outside and in a variety of climates. In terms of growing difficulty this Sativa strain is considered average given that the growth time is initially very fast.
Both indoors and outdoors growing will be rewarded with an impressive return: around 800g per square metre inside and up to a huge 1300 grams per plant outside.
However, if you are pushed for space it is worth noting that if left uncontrolled this lady can rapidly grow very tall and tree-like so it is best to keep an eye on the growth rate.
This extremely pure plant is not for the faint-hearted. Whilst this strain still maintains that spicy Sativa taste the high slowly creeps up on you rather than an instant hit.
The result is a contemplative and meditative high with a psychedelic feel; perfectly suited for a quiet and creative time that many within the cannabis industry swear by.
For an outside harvest the yield will be ready at the end of November if you are in the Northern Hemisphere and June for the Southern Hemisphere.
If you are growing inside you can expect the plant to bloom perfectly ripe and dense Sativa buds at around the 13-week mark.
Please remember that the growing of cannabis plants and the cultivation of seeds is illegal in some countries - please check the laws of your country and don't be growing any plants if it is against your country's laws.
Genetics:
Neville's Haze x Cambodian x Laos