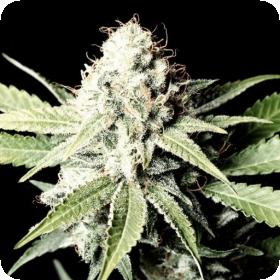 Great White Shark Feminised Seeds
Great White Shark Feminised Seeds is a hybrid strain from Green House Seeds Co. with origins developed from a combination of Super Skunk, Brazilian and South Indian varieties.
This is a plant that is extremely potent with clinically tested high levels of THC. This strain is very easy to grow quickly and you will be richly rewarded with some very strong buds, this was reflected in its victory at the 1997 Bio High Times Cup.
The Indica heritage of this plant means that any potential grower can expect a short, squat structure that will be covered in a beautiful white gloss of crystals.
Once ready you will be left with solid and sticky buds that give off a very enticing mixture of fruity and skunky aromas. Ideally this plant will be grown in an SoG or SCRoG system but will still produce a good yield regardless of method.
Once smoked you will understand why Great White Shark comes so highly regarded. The deep physical sensations will erode any aches and pains you might have had and will help relax your entire body.
Considering this it is hardly surprising to learn that this strain has been used medicinally in relation to pain therapy. This is an introspective and quiet smoke, your body will feel slightly heavy and then this elegant high will slowly take over your mind.
If you allow yourself to let go and feel the powerful sedative effect of this lady you will have an unforgettable and long-lasting experience.
For an indoor grow the plant will require a 9-week flowering period that will produce a yield of up to 800g/sqm.
For an outdoor grow the harvest period will be complete in the first week of October in the Northern Hemisphere with an extremely generous production of 1000g/plant.
Please remember that the growing of cannabis plants and the cultivation of seeds is illegal in some countries - please check the laws of your country and don't be growing any plants if it is against your country's laws.
Genetics:
Super Skunk x Brazilian x South Indian.