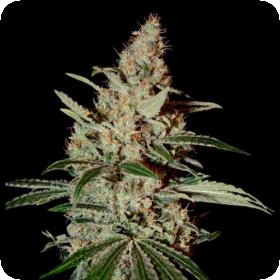 Chem Dog Feminised Seeds from Green House Seeds Co. hail from the US and its genetics are a combination of OG Kush and Sour Diesel.
This strain has a very generous THC count it and was awarded 2nd prize in the IC420 Growers Cup 2008 in addition to being voted as one of the year's top cannabis strains in a High Times readers' poll.
Regardless of the mythology of the origins of this strain what is certain is that with lineage from Kush and Sour Diesel this is going to deliver. In recent times Chem Dog has become popular with medicinal users so a surge of interest in this strain is expected.
This plant can be grown both inside and outdoors and will produce a long plant that stretches and is therefore ideally suited for SCRoG and LST systems. These methods are advisable as crops without training have been known to be slightly average.
This Indica dominant smoke is extremely powerful and potent with a narcotic edge. The effects can be trippy and spacey with strong perception alteration that lasts for a long time so be mindful of when and where you decide to smoke.
For an indoor grow flowering will occur at around 9 weeks with a yield of up to 800g/square metre. While for those of you growing outside flowering will finish by the first week in October in the Northern Hemisphere with a production up to 1000grams/plant.
Please remember that the growing of cannabis plants and the cultivation of seeds is illegal in some countries - please check the laws of your country and don't be growing any plants if it is against your country's laws.