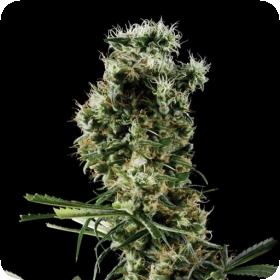 Arjan's Haze #2 Feminised Seeds
Arjan's Haze #2 is an 80% sativa cannabis strain that has been bred using genetics from Neville's Haze, Super Silver Haze and a variety from Laos in south east Asia. It can grow into a very tall, lanky plant.
Arjan's Haze #2 has the long, thin leaves so typical of tropical sativas with a long inter-nodal length. Indoors it is recommended to give it only a very short period of vegetative growth in order to control its height.
SCRoG or LST is also a good idea to help produce maximum yields at the same time as controlling its propensity for vertical growth. In this environment it is capable of producing as much as 800 gr/m2 in just 9 weeks, super-fast for such an equatorial-based strain.
Outdoors this plant can become something of a giant in the right conditions and it will need some kind of support structure for its buds otherwise it is possible that branches might snap.
It is quite adaptable to tropical, sub-tropical, Mediterranean and warm, dry, temperate climates. In northern latitudes it should be ready for harvest by the end of the first week in October producing as much as 1 kg/plant of long sativa buds..
This weed has a very intense flavour that is nutty and woody. Arjan's Haze #2 delivers 12.89% THC with 0.2% CBD along with 0.13% CBN. Its effect is strong and rather on the introspective side with a deep effect on the body.
It has been found to be effective in the provision of pain relief for medicinal marijuana patients.