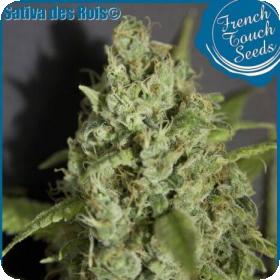 Sativa des Rois Feminised Seeds
Sativa Des Rois has been created by French Touch Seeds through a painstaking selection of their best AK-47s. They combined the very best features of their best Sativa AK-47 in order to develop this strain.
This strain is ideal for extremely experienced farmers who are looking for a high level of THC. This strain needs plenty of attention in order to reach its full potential.
It is a perfect mother plant since it is both small and compact, it is also perfect for clone production. If it is grown outdoors it must be grown carefully since it does not like too much humidity.
This is due to the size of its buds which means it needs a well ventilated area in order to avoid mould. A hint for this particular plant is to 'open' the plant with a net in order to get sunlight to the very lowest parts of the plant.
It has an extremely relaxing effect and is ideal for battling issues related to stress and anxiety.
These seeds are feminised which means they will only grow into female plants. These seeds are often used by growers who do not plan on producing their own crops.
This is due to the fact that they have no need for the male plants and so feminised seeds will save them time, money and effort.
Usually a grower would have to through the rigmarole of removing the male plants at the start of the flowering period so that they do not hurt the females.
This means that around half of a regular crop would be wasted, and so would half of the money spent on it. These seeds are also of a higher quality and uniformity than regular seeds.
80% of strains which have been feminised have shown improvement in both areas. Feminised seeds can also be used by experienced breeders. It is possible, if they are treated correctly, for a female plant to produce feminised pollen.
This pollen is then used in much the same way as the male pollen. It fertilises another female plant and the resulting seeds will be fertilised.
This strain can be grown indoors, outdoors or in a greenhouse. It has a flowering time of 8 weeks and, if grown outside, it should be harvested in mid October.