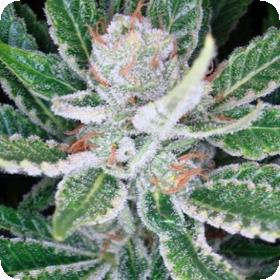 SleeStack Feminised Seeds
DNA Genetics invites you to take a journey to the lost world of 1970s Saturday morning American television with a strain that will have you wanting to wake and bake: Sleestack Feminised.
This aptly-named variety is the product of two trippy parent strains: Shrom and Martian Mean Green.
Hailing from Northern California, Shrom is a West Coast favourite that has made the rounds mostly in clone form. Having gotten their hands on a few quality clippings, DNA Genetics got quickly to work creating a whole new monster that is the very definition of what a true Sativa should be.
Anyone looking for the kind of high that just keeps going and going with no ceiling needs to experience this strain at least once, and with this nicely-priced six-pack of super-reliable seeds, there will be many more opportunities on top of that!
The mixing of these genetics produces plants that are relatively squat, making them great candidates for virtually any indoor growing method. Soil or hydro, Sleestack is flexible and will produce top-quality bud even for those growers who might be new to the whole process of growing cannabis.
Best of all, this strain is super-stable and 100% feminised - no male plants. The martian Green provides the signature flavour while the Shrom provides the exceptional bud production.
The buds take on a shimmering coat of frosty resin. In fact, they produce so much of it that this strain is one that is commonly grown for creating top-notch concentrates.
Those with experience in this area should seriously consider adding Sleestack to their short list of people-pleasing strains.
Indoor growers should allow at least 9 weeks of flowering for best results and should not rush the drying or curing process. Believe us when we tell you: it is well worth it to let these flowers ripen to their fullest.