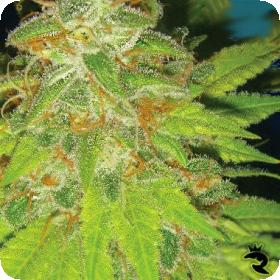 Big Buddha Tahoe, also known as "The Godfather of Weed" is an excellent-quality representation of its noble heritage. It is cousin to the strain that took home the coveted 2011 High Times Cannabis Cup: Tahoe OG Kush Wax by Cali Connection Seed Co.
The original cutting used to reverse Tahoe was acquired from Cali Connection and bred to produce a plant that could be grown from seed as opposed to cloning.
Strong and potent, this cannabis variety is sure to please even the most discriminating of palates, especially those with an affection for Kush. The taste here is virtually identical.
Tahoe is 100% indica, so it isn't subtle or gentle, but for those who prefer a strong, couch-locking stone that goes on forever, this strain is an obvious winner. It is also a recommended strain for those who suffer frequent headaches or migraines or who have a history of insomnia.
The relaxing effect of Tahoe is unbeatable and its medicinal and therapeutic benefits are many.
Growers will appreciate Tahoe's aesthetic qualities: its lush, dark green leaves and tight buds that practically overflow with resin. Get in close and breathe in the amazing scent this plant gives off.
Yes, it is possible to smell how potent and powerful it is long before it is ever harvested or lit. The smell alone hints of great times to come. Light it and breathe in the sharp, citrusy lemon and hash that will make you want to pucker up (and keep coming back for more).
Indoor growers will enjoy the ease of cultivating Tahoe and with just an 8-10 week flowering time, the waiting is not exactly painful. It responds well to all popular growing methods and even thrives well outdoors in cooler climates.
Outdoor growers should plan planting around a late October harvest. It stands up well to cold conditions but should not see excessive exposure to frost.
Please remember that the growing of cannabis plants and the cultivation of seeds is illegal in some countries - please check the laws of your country and don't be growing any plants if it is against your country's laws.
 
Genetics:
OG Kush Tahoe cut (Reversed)