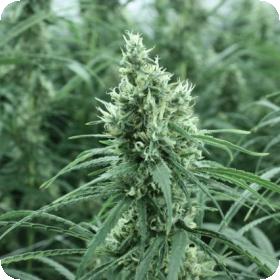 It's no secret where Big Buddha got the name for this strain. Crossing two iconic strains - Cheese and NYC Diesel - gives us Chiesel and this variety is anything but ordinary.
As many growers are aware, Cheese is the strain of choice for many of Big Buddha's hybridization projects. It tremendously enhances whatever strain it is crossed with while allowing the strains with which it is paired to maintain those aspects that set it apart.
Chiesel makes this point well. It has all the most desirable qualities of the NYC Diesel enhanced by the genetics lent by Cheese.
Those with an affection for Diesel are sure to recognize the sour flavour of grapefruit as well as the clear-headed euphoria it produces. It also has that signature Cheese aroma of feta peeking through.
Big Buddha Chiesel feminised seeds boast a superior germination rate and impressive yield. After a good soaking, the seeds germinate within a day. They grow into hardy seedlings that respond well to any grower's preferred method, either indoors and out.
Chiesel is a mostly sativa strain (60%), but it displays many qualities that are purely indica as well. Mature plants are aesthetically stunning and have branching structures that are well-developed and secured by a strong central stem.
The plants grow to a height of just under 5 feet. When grown indoors, they are well under - often closer to 4 feet.
Mature Chiesel plants take on a beautiful colour of dark green with leaves that are pointy and narrow. The leaf-to-bud ratio is well-balanced and the plants are physically structured to allow enough space to stretch and enough light to flourish well.
Chiesel has a flowering period of about 10 weeks. Its buds have very high THC content with 1.4% CBD on average. These numbers create a pleasant balance between a head-filling indica stone and a gentle full-body high that leaves the user functional but totally relaxed.
Please remember that the growing of cannabis plants and the cultivation of seeds is illegal in some countries - please check the laws of your country and don't be growing any plants if it is against your country's laws.