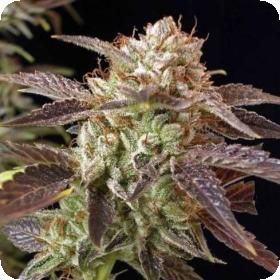 This Indica dominant feminised strain is ideal for all types of growers, novices and experts alike will be treated to great results from BC Kush. Its yields are average, its buds however are anything but. With a THC content of 23% it is an ideal medicinal or recreational strain that has a powerfully relaxing effect.
Medicinally it is used to help with insomnia, lack of appetite, pain, depression and even post traumatic stress disorder. It Of course it has maintained the classic Kush flavour that the strain is famous for, the soft and creamy smoke that everyone in the cannabis community has come to know and love. It will usually grow to around 150 - 180 cm tall and should fit perfectly in any garden.
This strain is feminised which means that it will grow into female plants only. Male plants can be a nuisance for growers who have no plans to breed their own crops. For these growers the male plants are little more than a nuisance and can even disrupt the female plants. Thus they have to be removed during the growing period which is a massive waste of precious resources including time and money. It is also true that almost every strain which has been feminised has shown marked improvement in its quality and its uniformity.
This strain can be grown indoors as well as outdoors and has a flowering time of just 8 - 9 weeks.
Remember that the cultivation of cannabis seeds is illegal in some countries, please check the laws of your country before attempting to cultivate cannabis seeds.