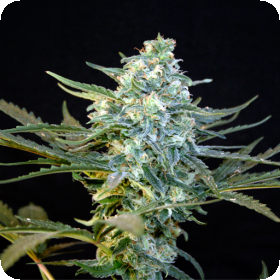 Guanabana Feminised Seeds
The Guanabana Feminised Seed is a hybrid between White Widow and Amnesia Haze, two already very popular strains. This strain has inherited a lot of its parents' better traits including its subtly fruity flavour and its high level of potency.
It is a mostly Sativa strain and has strong branches which produce very intense smelling compact buds.
This strain has won a few awards; it won 1st and 2nd place in the Sanferweed Highlife BCN Cup in 2008 in the Haze category and 1st place in the Uruguayan Cannabis Cup in 2012, the Outdoor category.
These particular seeds are feminised.
Feminised seeds are seeds which grow predominantly pure female plants. For a long time people had trouble with feminised seeds growing hermaphrodite plants but these days feminised technology has taken a huge leap forwards and most companies have a roughly 95% pure female yield.
This means that there is no need to deal with the male plants that many people find pointless and irritating. Unless there is a need to create a seed harvest there is no need to have male plants, and they simply take up time, space and money.
With feminised seeds there is no need to purchase twice as many seeds as desired female plants.
As far as seed harvesting goes female plants can in fact be pressured into producing a small amount of male flowers. These flowers contain the necessary pollen to produce seeds which are reported to have a higher level of potency and uniformity.
The vegetative period of these plants is rather short as a result of their size, and so they have quite a fast maturing period. They flower in 8 weeks, grow to around 2-3m, have a yield of 500-600g, they can grow indoors, outdoors, or in a greenhouse, and their harvest month is the beginning of October.
Please remember that the growing of cannabis plants and the cultivation of seeds is illegal in some countries - please check the laws of your country and don't be growing any plants if it is against your country's laws.