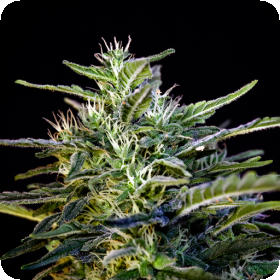 Wombat Feminised Seeds are a cross between two of Blimburn's favourite strains, Original Haze and Critical Mass. This is one of their more efficient strains which flowers vigorously for a short amount of time and then produces compact but rather large buds.
Even if it only grows to a small size its yield is most impressive. The Wombat seed is mostly Sativa based which supplies a level of quality that comes only with a Sativa strain. It is a rather potent strain with an excellent flavour and aroma.
Another phenomenal combination by Blimburn.
The strain is also feminised which makes it very user-friendly.
Feminised strains have been genetically engineered so that they only produce female plants. No male plants is a bonus for most people as they have very little use outside of reproduction.
While it is true that having male plants is useful for selecting the parent plants for maximum quality control there is a way that the same thing can be accomplished with feminised plants.
If you stress a female plant in the right way they can produce the male pollen necessary for reproduction. Then a seed harvest can be cultivated without wasting time on male plants. This is a little tricky but very cost effective.
Not only does it save some cash but the seeds produced often have a much higher level of uniformity and potency.
As I mentioned the strain is mostly Sativa. It has a very impressive yield of 600-700gr which is certainly impressive for its size which is usually a height of 3-3.5m. It will grow in greenhouses, outdoors, or indoors. Its harvesting time is mid-October and it has a medium/high THC content.
Please remember that the growing of cannabis plants and the cultivation of seeds is illegal in some countries - please check the laws of your country and don't be growing any plants if it is against your country's laws.