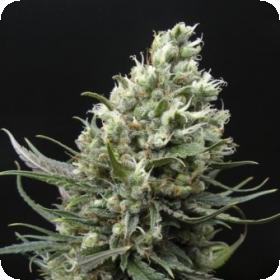 Ripper Haze Feminised Seeds
Ripper Haze is an amazing strain that Ripper Seeds discovered in Holland. This strain is extremely popular in coffeeshops because of its intense effect and awesome scent.
This strain is also known as Amnesia Haze, an already insanely popular strain that has been even further improved by Ripper Seeds. The effect is extremely potent and long lasting, definitely not a strain for beginners.
The aroma and flavour are mouth watering, the flowering time is short and the THC percentage is through the roof.
This strain is feminised and will only grow into female plants. Feminised seeds are ideal for growers that have no plans to breed their own crops.
For these growers the male plants are more of a nuisance than anything, and can waste of lot of time, money and effort. Feminised seeds are also photoperiod, which means they will need a light cycle in order to flower.
Some of their popularity comes from their increased quality and  uniformity. For this reason some breeders also prefer to use feminised seeds, despite the increased difficulty of feminised breeding.
This strain can be grown indoors or outdoors and has a flowering time of 60 – 65 days.