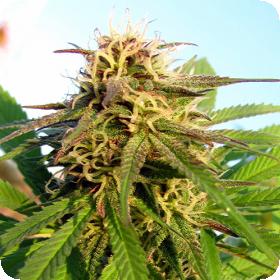 Auto Blue Mystic Feminised Seeds
This strain was created by very carefully and time consumingly picking and breeding with a variety of Blueberry. The resulting strain is compact, fast flowering and produces large, top quality buds. This strain not only gives great yields but these lovely crystal coated buds can be up very high in thc.
Despite this immense potency this strain is perfect for those suffering from forms of anxiety, depression, stress and insomnia. It gives an immense feeling of peace and calm mixed with a little pure happiness. Perfect for those who really like to chill out at the end of the day. The flavour is fruity and sweet as is the scent making for an extremely pleasant over all experience.
Blue Pyramid Seeds are feminised meaning that they will only grow into female plants. Feminised seeds have, over the years, become extremely popular with growers everywhere. They remove the male plants which can cause a lot of issues down the line. They are also generally higher in quality and uniformity than regular plants.
This strain has a flowering time of just 50 - 55 days and grow to a height of around 60 - 120 cm. Outdoors these astonishing plants can yield from 500 - 1000 g/plant.