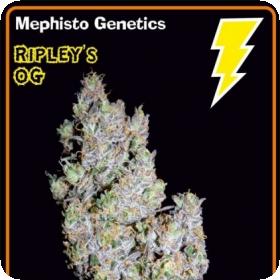 Ripley's OG Auto Feminised Seeds
Mephisto Genetics have been working industriously on creating the best autoflowering strains that they possibly can. They have spent a year working with some of the best seeds and cuts around and Ripley's OG is the second to be paired with Triangle Kush.
The results were simply outstanding. The original strain was an Alien OG which they retrieved from a selection of Cali Connection strains. It is a compact and dense strain with amazing resin production and gorgeous, autumnal colouring.
It has an impressive yield and some of the densest, high quality buds around. It has a sweet, berry flavour and a powerful, energetic effect. This makes it an excellent day time strain of the highest quality.
Ripley's OG is an autoflowering feminised strain which makes it quite easy to grow. Feminised strains will only grow into female plants which makes them ideal for growers who do not plan on breeding their own crops.
For these growers the male plants are a nuisance as well as a waste of time and money. Usually they would have to be removed at the start of the flowering process, with regular seeds this would mean wasting around half of the crop.
Feminised seeds are far more efficient as well has being of a higher level of quality and uniformity than regular strains. Feminised seeds can also be used by breeders, although this method of breeding is far more difficult than using regular seeds.
Autoflowering plants flower on their own rather than as a reaction to a specific light cycle. Due to this flowering method they skip a section of growth known as the vegetative period. Since they skip this period they flower faster than regular strains.
They also tend to have a more impressive yield as well as a shorter, denser structure. This makes them ideal for indoor or stealth growing.
This strain can be grown indoors, outdoors or in a greenhouse making it ideal for all types of growers and breeders. It has a flowering time of 70 days from sprout and a yield of 120 g/plant.