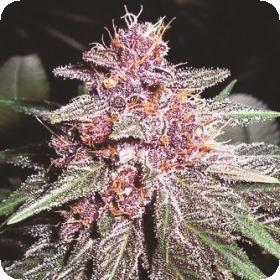 Violeta is an extremely popular hybrid plant by Ace Seeds, best known for its amazing purple hue as it matures. It gets it's colour from it's impressive genetic background, a combination of Purple Malawi, which is a rather special purple African Sativa, and the awesome Pakistani Chitral Kush, a strong Indica. This strain is quite the knock out, not just in appearance but in aroma, taste and effect. Violeta has a deliciously unique scent of fruit and balsamic with a delightfully balanced Sativa/Indica effect that wont take the user too far in any particular direction. Visually she has a classic columnar structure with medium length nodes and plenty of resinous buds.
Violeta is a feminised strain which simply means that she wont grow any male plants. The male plants aren't really needed, especially by those who have no intention of growing their own plants. In fact for most growers the male plants are more of a nuisance than anything and would need to be removed during the growing process. This is a pretty big waste of time, money and energy. Feminised plants also tend to be of a higher quality and better uniformity than regular plants.
They can be used by experienced breeders to create a new generation of feminised plants. However this process is very tricky and shouldn't be attempted by novice breeders.
It has a flowering time of just 8 - 10 weeks and should be harvested end of September or early October if grown outdoors.
Keep in mind that the cultivation of cannabis is illegal in several countries. Please check the laws of your country before attempting to grow cannabis seeds.
Genetics:
Purple Malawi x Purple Pakistan Chitral Kush