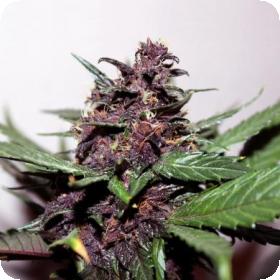 Swiss Dream Rose CBD Auto Feminised Seeds
Swiss Dream Rose CBD Auto is the most therapeutic autoflowering strain. It's a plant that's easy to grow, even for complete beginners, produces high yields, and has a CBD:THC ratio of 30:1 with a maximum THC content of 0.55%!
Adding purple genetics resulted in a strikingly coloured auto plant that would brighten any garden. 
This autoflowering strain, like almost all autoflowering strains, can be grown both inside and outdoors. Indoor-grown plants will be ready to harvest in 63-65 days after germination, with yields of roughly 500 grammes per square metre. 
A lighting schedule of 18/20 hours of light and 4/6 hours of darkness every 24 hours is recommended. Plants will reach a height of 60-90 cm under these conditions.
Plants will grow a little taller outside, around 70-100 cm tall, and yield roughly 200 grammes per plant. In warmer, lower-latitude regions, two crops can be grown per year, with the possibility of three if they are begun indoors before being put outside. 
This strain's robustness in terms of stress resistance is one of its most notable characteristics.
It has a lovely aroma of pine and red fruits. Meanwhile, the flavour is both fruity and earthy. 
CBD levels of 17% have been measured, with a maximum of 0.55% THC, delivering a lucid impact as well as deep relaxation for muscles in particular.
Genetics:
Swiss Dream CBD Auto x secret genetics.