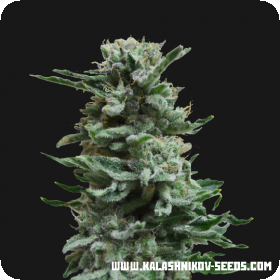 AK Skunk AUTO Feminised Seeds
AK Skunk is a combination between AK - 47, which Kalashnikov are famously good with, Skunk #1 and a Ruderalis strain. The result is a powerfully potent and impressive strain that produces thick, resin coated buds in abundance. The plants themselves are extremely short and very bushy which makes them great for stealthier growing.
The effect is definitely psychoactive and super potent. The sort of high that will confine users to their couch for a while. Perfect for those who just want to come home from work and melt into a delightful puddle of relaxation.
This strain is both auto-flowering and feminised, which makes it perfect for growers everywhere. Auto-flowering strains don't require a light cycle like regular plants. Instead they flower on their own at a certain time in their lives, in turn this means that they will have a shorter light cycle and a shorter stature.
Despite their tiny size the yield is usually the same if not larger, perfect for indoor growing. Feminised seeds will only grow into female plants, no more having to remove the pesky male plants from the crop during flowering. They save growers a huge amount of money, time and energy. They are also usually higher in quality and uniformity.
Remember that the cultivation of cannabis seeds is illegal in some countries, please check the laws of your country before attempting to cultivate cannabis seeds.
Genetics:
AK-47 x Skunk #1 x Ruderalis