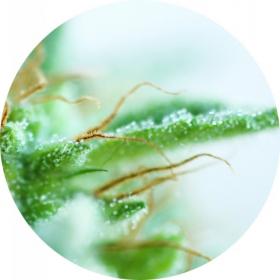 Early Sativa Regular Seeds
Early Sativa is the fastest strain in the Top Tao Seeds collection. This strain has genetic routes in Africa and the Swiss Alps. It has a fantastic aroma and flavour of fresh fruit that will leave the mouth watering.
Early Sativa is not only a fast grower but it produces a huge amount of energy in other areas, the effect is upbeat and powerful making it ideal for those who struggle with depression, anxiety and lethargy.
This strain is regular and will grow into a mixture of male and female plants. This makes it ideal for breeders who want to breed their own crops. Regular plants will usually grow into a 50/50 split of males and females, with maybe a few more females than males.
This gives the breeder plenty of choice when the time comes to pick parent plants. The parents will dictate the quality of the next crop, so it is extremely important to choose the very best plants from the current crop.
Regular seeds are also photo-period and will flower as the result of a light cycle.
This strain has a flowering time of 9 weeks and can be grown indoors, outdoors or in a greenhouse.
Remember that the cultivation of cannabis seeds is illegal in some countries, please check the laws of your country before attempting to cultivate cannabis seeds.