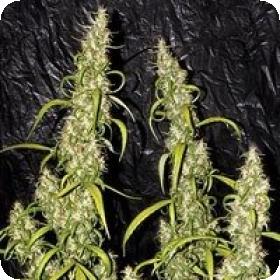 Neville's Haze Regular Seeds
Neville's Haze is a strain that has reached legendary status in the world of cannabis and its respective breeders. As the name would suggest, it is based on the genetics created by the infamous Neville Schoenmakers, who some would call the father of all of today's modern seed companies.
It is a combination of Northern Lights Number 5 x Haze back crossed with the tropical sativa of the original Haze. This is a Sativa dominant strain and it therefore can gain some height akin to its Sativa parent, but not to the height of some other haze varieties.
The resulting plant is said to be a tall, thick-budding plant with a multifaceted aroma and a somewhat old school flavour. It is the consensus that, out with a Mediterranean climate, this strain is best grown indoors.
Many growers with a preference for Sativa favour this strain due to it flowering a little faster than its ancestors, it does, however, still have quite an extended flowering period overall.
Neville's haze is a regular seed. The feminised variety, it is agreed, is the easier option for a grower wishing to cultivate the same strain exclusively, as only the female plants are needed.
If a grower were to breed their own crop, however, then the males would be essential, as they produce the pollen that is necessary for this. A grower can then select the features that are strongest about the strain and keep them, whilst eliminating the weaker aspects.
This would allow a grower to tailor a crop to their own desires and preferences. It is this freedom that makes this variety so popular, particularly with some of the more old school cultivators.
Albeit shorter than its ancestors, this plant still has a rather long flowering period of about 16 weeks, although this may be reduced by 2 or 3 weeks from cuttings.
A grower could expect a yield of around 400 grams per square meter from Neville's Haze and would harvest between September and October if growing outdoors.