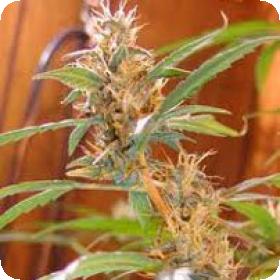 Afghan Haze Regular Seeds
This exciting offering from Mr. Nice Seedbank presents an infinite number of possibilities. Afghan Haze is an old school strain that has seen a long and lustrous history in the cannabis community and the variety produced my Mr. Nice has everything that the true connoisseur expects in a cannabis that bears this moniker.
Afghan Haze is a true champion hybrid, bred to bring to the table the absolute best aspects of both its indica and sativa sides. The user will be favoured with its spicy and sweet aromas and its flavours bright with tropical spice.
For the grower who is keen to learn about Haze hybrids... so preferably not first time growers.
Even better, these plants present with a variety of phenotypes.mThe plants clone easily and grow strong and hardy allowing you to preserve the best of your crop almost indefinitely. The seeds are strong and carry with them a huge potential for successful growing.
The yield of Afghan Haze is medium to high and flowering time is approximately 55 days. A little extra time will enhance the flavour and the effect. The plants take well to all common growing methods and indoor growers will appreciate how well they take to both soil and hydro methods. A consistent 12/12 light cycle during the flower period will make for hardier, more resinous buds. Outdoor growers should be prepared to harvest before first frost. Late September to mid-October in the Northern hemisphere, and April in the southern hemisphere is the ideal time for optimal-quality product.