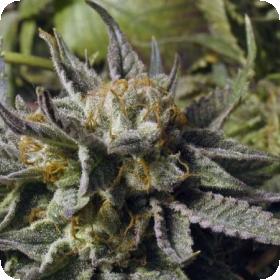 BC God Bud Feminised Seeds
BC God Bud is a combination of three amazing strains; God, Hawaiian and Purple Skunk. It is Indica dominant with a split of around 75% Indica and 25% Sativa. Unsurprisingly this strain has won an award, it won the Cannabis Cup 2004/5 for the best Indica strain. Its aroma and potency are extremely impressive with a THC content of 24%.
Medicinally this means that it can be used to fight the symptoms of insomnia, pain, depression, and loss of appetite. BC God is an excellent strain for commercial growers as it flowers quickly and gives massive yields. The buds are packed with flavour and give a floaty, out of this world high.
BC God Bud can be purchased in its feminised form which makes it ideal for growers. Feminised seeds will only grow into female plants which minimises the wastage of time, money and effort. The male plants would usually need to be removed during the flowering period as they can harm the female plants.
Since around half of the seeds in a regular crop are male this would be an enormous waste of money. Feminised seeds are also generally of a much higher quality than regular seeds with a better overall crop uniformity.
This strain can be grown indoors or outdoors, will usually reach a height of around 92 - 122 cm and has a flowering time of 8 - 9 weeks.
Remember that the cultivation of cannabis seeds is illegal in some countries, please check the laws of your country before attempting to cultivate cannabis seeds.
Genetics:
God x Hawaiian x Purple Skunk