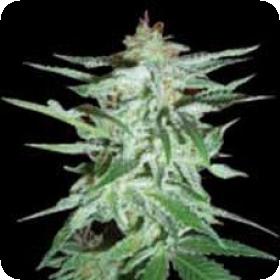 Delirium is a much sought-after polyhybrid cross between a Mazar and a Sharif x Black Domina-Jack Herer. It's mostly indica genetics coupled with high THC content make for a very potent indica-heavy smoke that will leave you locked to your couch for hours.
CBD's content is also high making it a good choice for medicinal applications as well as recreational.
The plants grow squat but do fan out a little with multiple flower sites and long, thin bright green leaves. They are considerably resistant to mould and fungus making it easy to grow them outdoors in areas where the humidity is high and even better indoors in a controlled climate.
They are also naturally resistant to pests - more good news for outdoor growers.
Indoor growers will like how well these plants take to any grow method, particularly SoG and ScrOG setups. They are versatile enough to thrive under a number of growing conditions produce impressive yields for plants their size.
Outdoors, plan to harvest Delirium by early to mid-October and do not expose the plants to frost. They finish in 8-9 weeks whether grown indoors or out, and provide a comparable yield however you decide to grow them.
The finished product will stay fresh for quite a while if it is cured and stored properly.
Those new to cannabis growing will find working with Delirium to be relatively easy, particularly since these are feminised seeds and are less labor-intensive than other non-feminised varieties.
If you are looking for a good strain to help you learn your craft or if you are an experienced grower looking for a good "throw and grow" opportunity, Delirium is a good choice.
Genetics:
Mazar I Sharif x Black Domina/Jack Herer