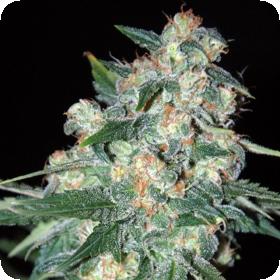 There are many advantages to choosing Ketama feminised seeds for your next growing project. Hailing from North Morocco, this strain has built into it's DNA the ability to grow practically anywhere and is very independent.
It doesn't require you to give the plants a lot of extra attention. It doesn't mind if it gets a little cold or a little hot. It doesn't even demand much in the way of water or nutrients.
Cover the basics when caring for these plants, and they will produce big, thick, delicious buds that are soaked with potent resin.
Ketama is a landrace indica and it packs a strong punch. Don't make any plans if you're going to light this one up - your evening will be amply booked. It is also a great variety for making some delicious hash as any Moroccan who has ever tried it will attest.
It is a popular use of this plant in that part of the world.
Adding to the appeal of Ketama is its lightning-fast finishing time - just 7 to 8 weeks on average and these plants are ready for harvest. Let them go a bit longer and the end product will be more potent but a little lighter in flavour.
Indoor growers will love how easily this strain grows under almost any condition and using any growing method. The plants are short so growing in closets or on balconies is perfect, as is growing in SOG and ScrOG setups.
Outdoor growers will appreciate how resistant the plants are to pests and how well they thrive in a variety of weather and climate conditions.
If you are a novice cannabis grower, you can rest assured that you are purchasing seeds that will be gentle on you your first time and produce a product that you are sure to enjoy!